A PCB on the edge of microelectronics
30 noviembre 2019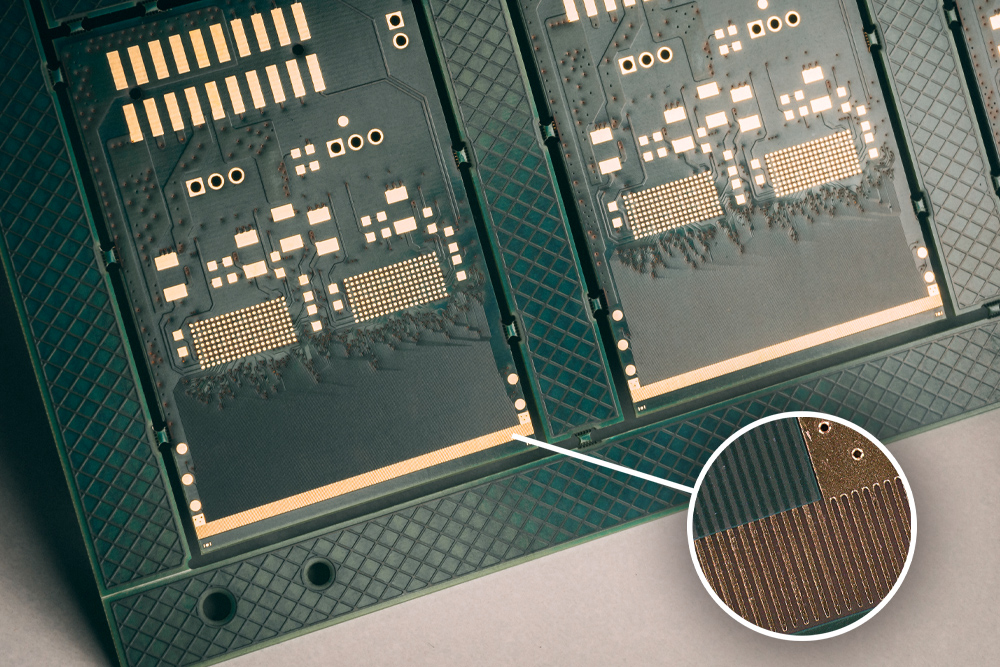 0.11 mm step connector: 70 micron track, 40 micron insulation.
The possibility of creating a PCB of this level, on the very edge of microelectronics, here in our factory in Mogliano Veneto, is the best testimony to our production capacity, our "know-how", and the level of competence that we are able to offer our clients. One of our clients was, in fact, responsible for the stimulus we received to produce a PCB with these characteristics.
It is the result of the continuous innovation which has always driven us throughout these past years, bringing cutting edge technology and the latest generation of processes into the factory, as well as our long experience as manufacturers of printed circuit boards.
The PCB shown in this image, with a 0.11 mm step connector, is an ML-6 layers, with 70µ (2.76 mils) tracks, 40µ (1.57 mils) insulation, and 80µ (3.15 mils) finished hole.
Under microscopic magnification one can fully appreciate its characteristics and the quality of its construction.
Enlargement of connector: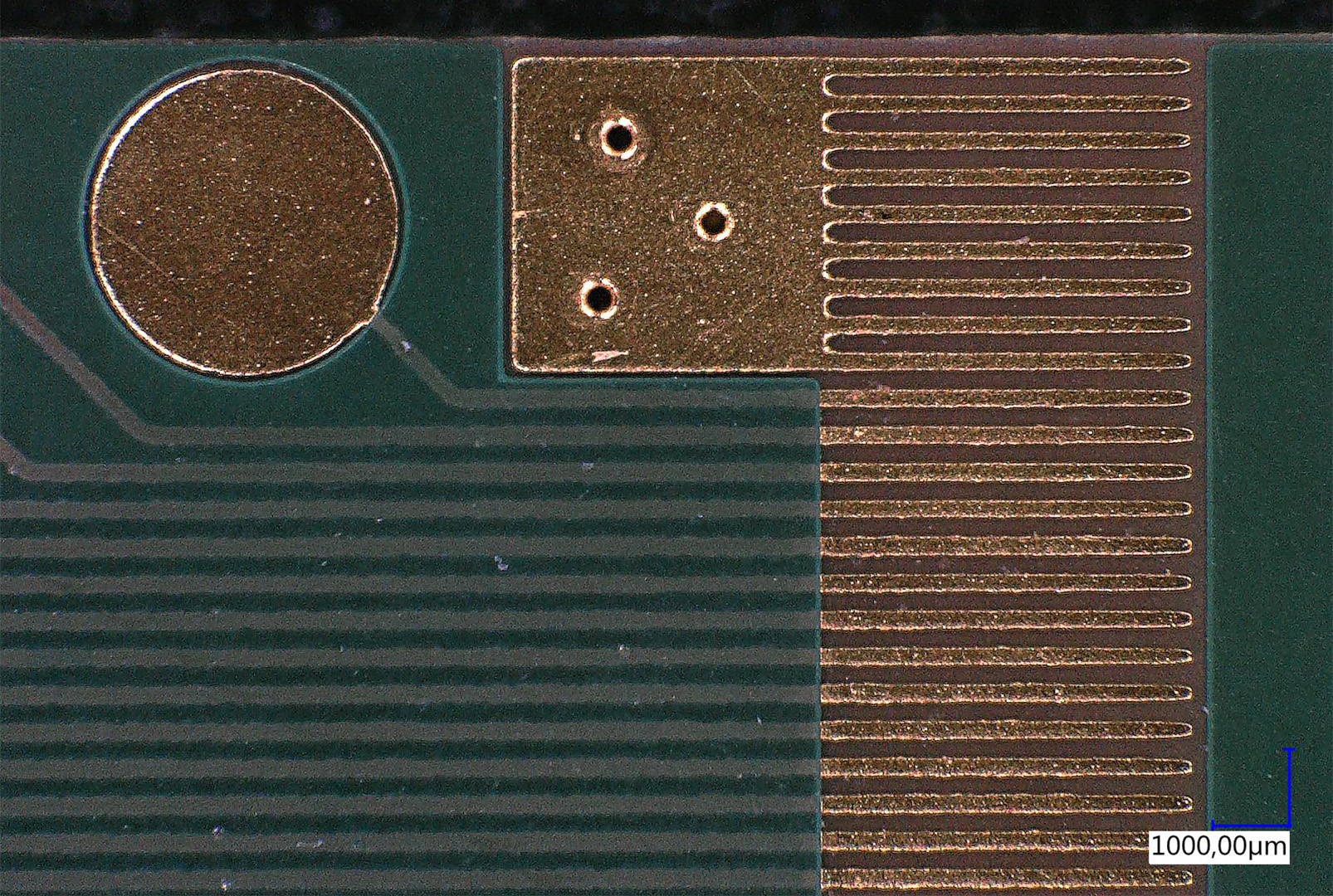 A connector with these characteristics is mounted with ACF (anisotropic conductive film) technology. The anisotropic conductive film (conductive vertically, insulated horizontally) is a lead-free and ecological adhesive interconnection system that is commonly used in the production of liquid crystal displays to make the electrical and mechanical connections from the driver electronics to the glass substratum of the LCD. More recently it has been used to perform the flex-to-board or the flex-to-flex connections used in portable electronic devices such as cell phones, MP3 players, or in assembling CMOS camera modules.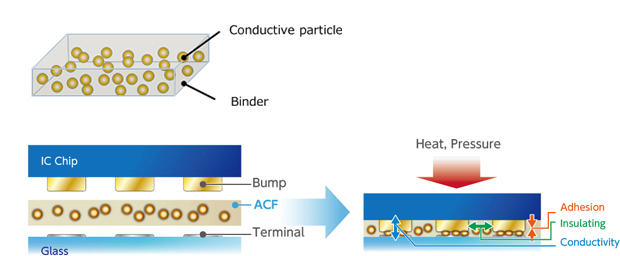 Microscopic measurements of insulation, the thickness, and the step connector: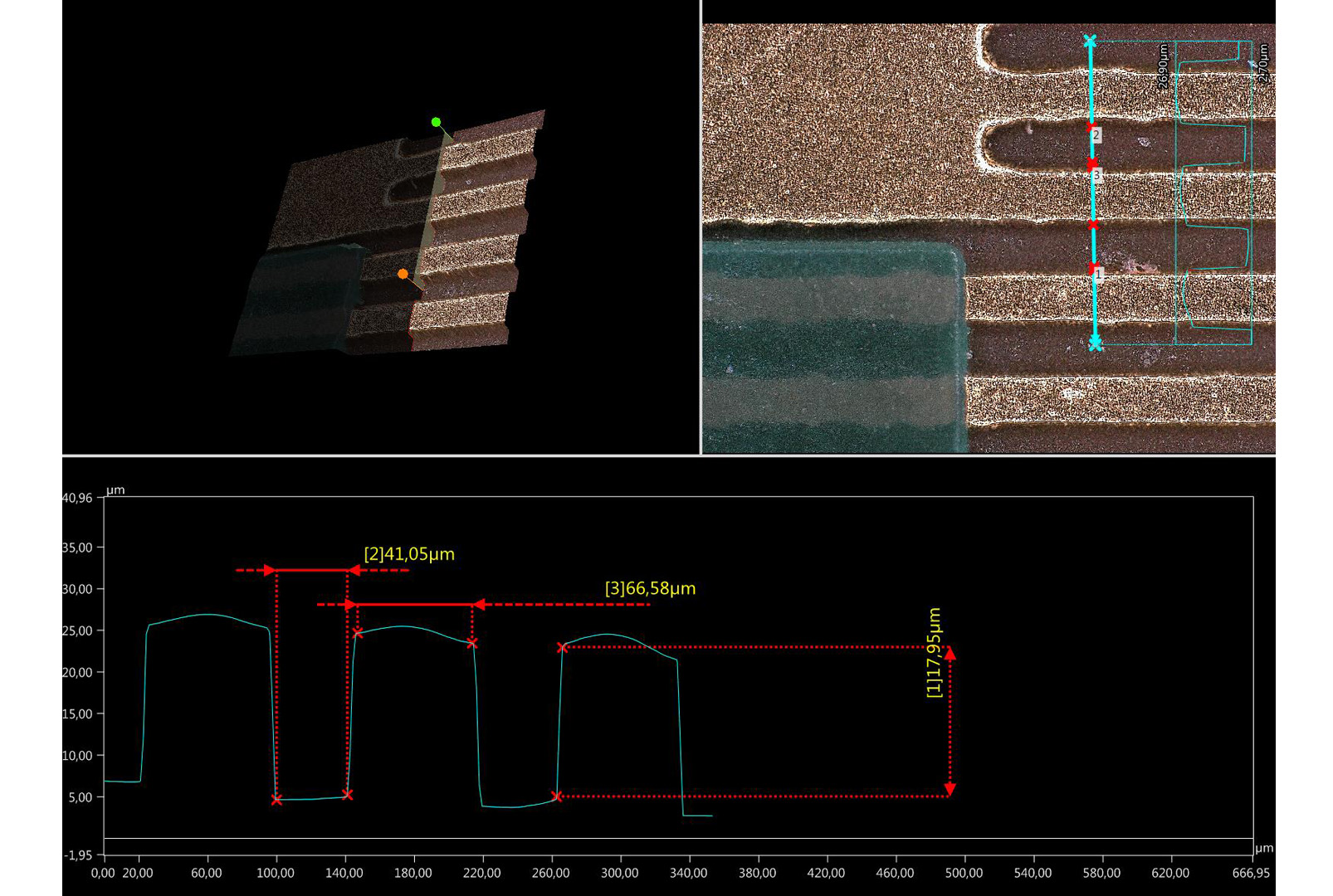 Measurement of the copper thickness and sectional view of the micro-hole: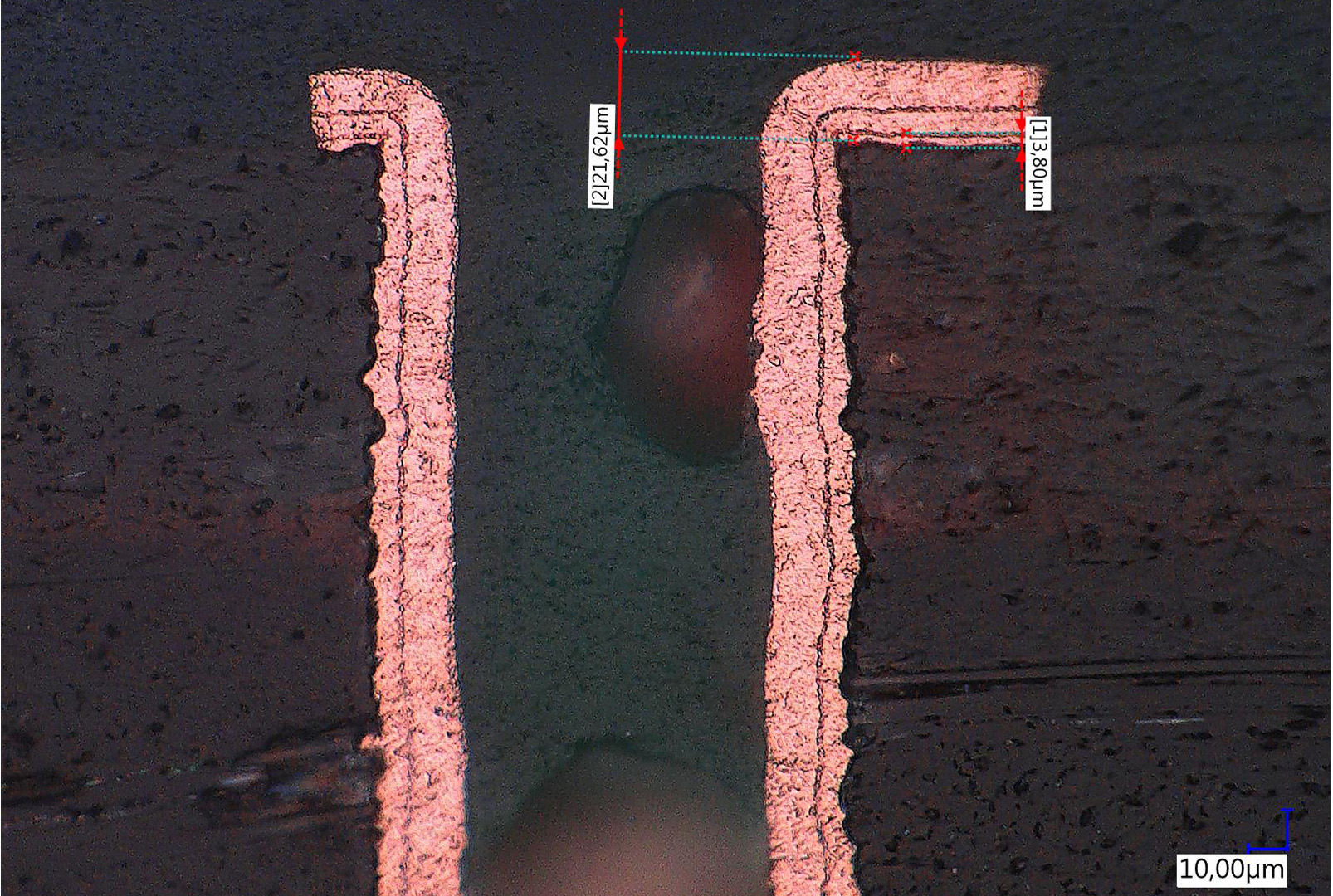 All the characteristics of the PCB
PCB type: ML6
Base material: FR4
Thickness: 0,7mm
Finishing: ENIG
Outer L. copper: 5µ
Inner L. copper: 18µ
Hole Ø (finished): 0,08mm
Tracks (min.): 70µ (2.3 mil)
Isolation (min.): 40µ (1,5 mil)
Otras publicaciones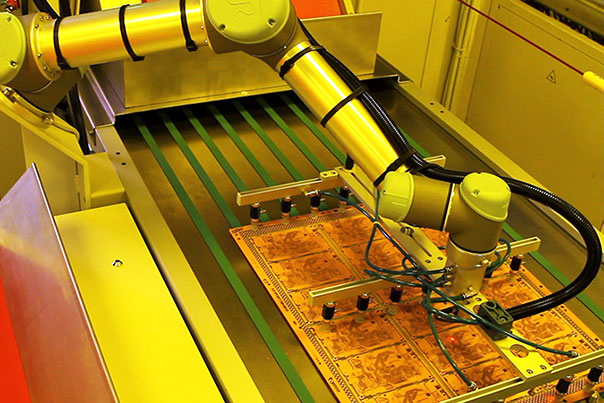 A new investment to upgrade resistance limit of PCBs
We are still pursuing our philosophy of continuously improvement aimed to bring about Hi-Tech in ...
leer más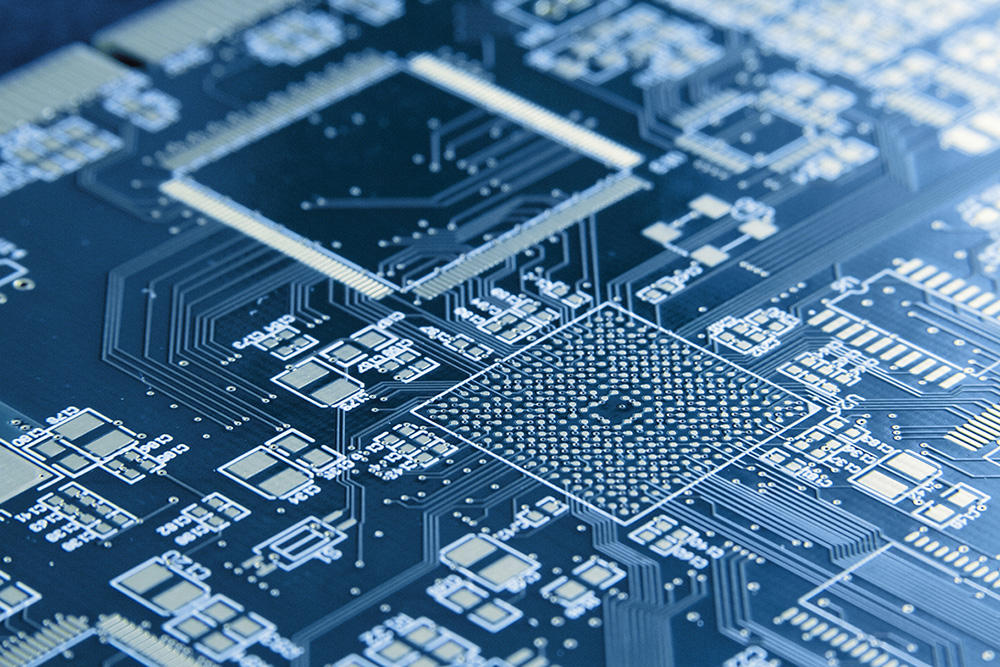 Alba PCB Group expands into Germany
Acquires Q-print electronic GmbH Acquiring the majority share in Q-Print electronic Gmbh, a German company...
leer más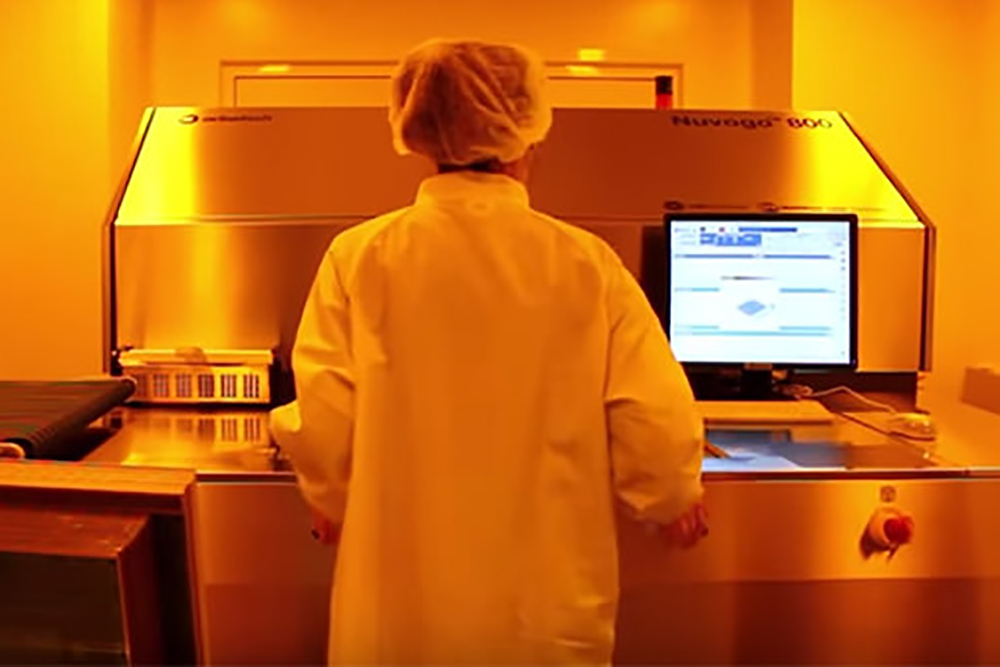 Direct Imaging
We have further enhanced our productive department investing in the most advanced technology for pcb...
leer más